Uh Oh

Casada changes tune on Jeremy Durham over campaign money
That's it. The embattled state Rep. Jeremy Durham has finally done it in his former caucus leader's eyes.
When accusations of sexual harassment by Durham, R-Franklin, against several women were reported earlier this year that forced him to resign from the Republican caucus and take a two-week leave from his legislative duties, caucus chairman Rep. Glen Casada, R-Franklin, stood behind his fellow legislator.
Durham denied the accusations, and Casada accepted the denial, even after a preliminary report from an investigation by Attorney General Herbert Slatery found that Durham had "made inappropriate comments of a sexual nature or engaged in inappropriate physical contact with some women."
But this week, Casada seemed to pull his support because of Durham's behavior — though not because of his behavior toward women.
Sparking the change were allegations that, gasp, Durham may have used funds from his campaign war chest for personal business.
The state registry of election finance board received notification from Slatery of a series of text messages between Durham and Benton Smith, who has worked with Durham as legislative assistant, campaign worker and now as an employee of Durham's company, Battleground Title and Escrow. The texts indicated the legislator would pay business expenses of $2,000 out of his campaign funds.
On May 12, 2015, Durham texted Smith, "I can write something out of my campaign but it must get counted towards what I've put into the company." Smith alleges Durham told him to take $2,000 in campaign funds and deposit them in a Battleground account.
The allegations of campaign finance irregularity moved Casada when allegations of abusive behavior did not.
"If everything is true and those are his words, yes, I do think he should resign," Casada told The Tennessean on Thursday. "That's just behavior that cannot be tolerated by the public from an elected person."
We should expect our elected officials to keep their personal and public lives separate and not to use their public office to enrich themselves.
But what kind of perverted place is the Legislative Plaza when a $2,000 campaign finance diversion garners more outrage from a House leader than the state's attorney saying that a legislator engaged in inappropriate physical contact and potentially poses a "continuing risk to unsuspecting women"?
Casada seems to embody a view of the world that it is OK to abuse people as long as you don't get caught abusing campaign funds.
Casada's behavior is emblematic of why Democrats have pushed women candidates to challenge for legislative seats, and raised the question of whether we should probe further into other legislators' behavior toward the women who work on Capital Knob.   - Frank Daniels, III in The Tennessean (subscription)
---
Hard Time
Tennessee Prison Officials Say They're Sticking With Controversial Guard Schedules, After All
State prison officials now say they have no intention of going back on controversial changes to how guards are scheduled and paid. The decision comes eight months after an independent review recommended abandoning the system, which guards say has shorted them on overtime and contributed to low morale.
The issue is whether prison guards get paid for overtime or have to take time off.
In 2014, the state Department of Correction began scheduling guards on a 28-day cycle, and they'd get overtime only if they'd worked extra hours by the end of the month. Since then, guards say they've seen their schedules fluctuate — with long weeks followed by short ones — to keep them from getting paid extra. Randy Stamps, executive director of the Tennessee State Employees Association, says that practice probably saves the state money but it isn't fair.
"You could argue that that's good management. I would argue that's taking advantage of folks that are doing one of the most dangerous jobs in the state."
The system is also unpopular with correctional officers, the TSEA claims. At a hearing Thursday, it presented the results of a survey it took of its members in the Department of Correction. The TSEA admitted its survey was unscientific, but it said three-quarters of respondents indicated they were dissatisfied with the 28-day schedule.
That's exactly what the American Correctional Association recommended last fall when it went into Tennessee's prisons to figure out why turnover was up among correctional officers and morale was down. At that time Correction Commissioner Derrick Schofield seemed to say he would go along with the recommendation. He cited a need to re-engineer the department's human resources software as the main barrier to abandoning the 28-day schedule, but he added those changes could be made if employees indicated that's what they wanted.
"We want to do some things that can encourage them — that we're listening, we hear you, and we're going to make the adjustments if necessary," Schofield said then. Now a spokeswoman for the department says it won't, and Schofield refused to explain why Thursday when approached by reporters.
Schofield's last day as commissioner is later this month. But Stamps, with the state employees association, says it's unlikely the next commissioner will change the schedules either.
He says that by the Department of Correction's own estimates last fall, eight months would have been enough time to change the computer software and end the 28-day schedule, if officials in Gov. Bill Haslam's administration had wanted to.   - WPLN
---
Editor's note:  Read this Wall Street Journal article carefully, especially the sub-head. The WSJ ran this as A-1 top banner headline. No other national outlet even bothered to report it. That tells you two things. (1) there's no real news here, and (2) the heavy hand of Rupert Murdoch and FoxNews can be felt even on the front page of the WSJ. 

Emails in Clinton Probe Dealt With Planned Drone Strikes
Some vaguely worded messages from U.S. diplomats in Pakistan and Washington used a less-secure communications system
At the center of a criminal probe involving Hillary Clinton's handling of classified information is a series of emails between American diplomats in Islamabad and their superiors in Washington about whether to oppose specific drone strikes in Pakistan.
The 2011 and 2012 emails were sent via the "low side''—government slang for a computer system for unclassified matters—as part of a secret arrangement that gave the State Department more of a voice in whether a Central Intelligence Agency drone strike went ahead, according to congressional and law-enforcement officials briefed on the Federal Bureau of Investigation probe.
Some of the emails were then forwarded by Mrs. Clinton's aides to her personal email account, which routed them to a server she kept at her home in suburban New York when she was secretary of state, the officials said. Investigators have raised concerns that Mrs. Clinton's personal server was less secure than State Department systems.
The still-secret emails are a key part of the FBI investigation that has long dogged Mrs. Clinton's campaign, these officials said.  - The Wall Street Journal (subscription)
---
Chicken Little 
Don't listen to GOP leaders. The economy's not so bad.
Donald Trump supports opening up the libel laws, and defending those he sees as victims of nasty public defamation campaigns. Well, I can suggest at least one libel victim that needs a champion: the U.S. economy.
America's economy gets a bad rap these days, thanks in no small part to Republican politicians' constant smears and insults. "This is the worst recovery after a deep recession since World War II," declaredSenate Majority Leader Mitch McConnell (R-Ky.) on Fox Business Network on Tuesday. He's used similar language on CNBC, PBS, Fox News and other outlets in recent days, as have other conservative commentators.
This data point, Republicans claim, is an indictment of the Obama administration. It's also supposed to persuade voters to hold their noses and rally around the GOP's bigoted new standard-bearer and the alternative economic vision he supposedly represents.
Except this assessment of our economy is completely wrong. Or at the very least, highly misleading.
In fact, if you go by the historical record, we may have exceeded expectations for where we should be this many years after a severe financial crisis. And relative to most other countries that weathered a crisis when we did, we're doing spectacularly well.
Why did the United States do so much better than most of its peers? Partly better policy, partly luck.
Our central bank, the Federal Reserve, opted to loosen monetary policy and undertake controversial, unconventional measures early on. Today many economists credit these actions with keeping the United States from tumbling into a full-blown depression. The European Central Bank, by contrast, took a long time to follow suit.
On fiscal policy, too, we made better choices. Compared with the United States, many European countries engaged in much more draconian austerity measures, which often turned out to be counterproductive.
On the luck side of the ledger, though, we also benefited from having the world's reserve currency. This meant investors around the world continued to gobble up U.S. Treasurys at the height of the crisis, which relieved U.S. policymakers of pressure to undertake big austerity measures (as, for example, Greece had to do). Plus, Americans were able to wipe out their unpayable private debts much more quickly than many of their counterparts abroad did, since mortgages here are more likely to be non-recourse loans. Foreclosures were painful, but once they were over, the underlying loans were discharged, and families could move on with their lives.
The United States was one of 12 countries that suffered a systemic financial crisis in 2007-2008. Of that dozen, only three others have since recovered all the territory they lost in the crisis: Germany, Ireland and Britain. The IMF forecasts that two more will recapture their pre-crisis peaks this year, and several more will do so in the next few years. Three countries — Greece, Italy and Ukraine — were so scarred by the crisis that forecasts going all the way out to 2021 still don't show them regaining their lost ground.

Today, in the United States, the economy may not feel great. But compared with the roads not taken, it ain't so bad.  - The Washington Post (subscription)  
---
 Enjoy reading the BUZZ?  Help keep the news coming. Make a tax deductible contribution at CrockettPolicy.org.  Thank you.
---
Obama, Biden and Warren get on board
Barack Obama Endorses Hillary Clinton for President
Mr. Obama calls on Democratic Party to unite around Mrs. Clinton after meeting with Bernie Sanders
President Barack Obama endorsed Hillary Clinton for president and is scheduled to make a campaign appearance with her next week in Wisconsin. Mr. Obama announced his endorsement in a video on Thursday around 90 minutes after meeting with Mrs. Clinton's primary opponent, Vermont Sen. Bernie Sanders. 
"I'm with her," Mr. Obama said, adding that he's "fired up" and encouraging the Democratic Party and his supporters to unite around Mrs. Clinton's candidacy.
The Clinton campaign said Mr. Obama and his former secretary of state would campaign together next Wednesday in Green Bay, Wis. The event kicks off a marathon push by the president to retain Democratic control of the White House.
---
Thought for the day:
"Money has never made man happy, nor will it, there is nothing in its nature to produce happiness. The more of it one has the more one wants."  - Benjamin Franklin


---
The Hammer of Justice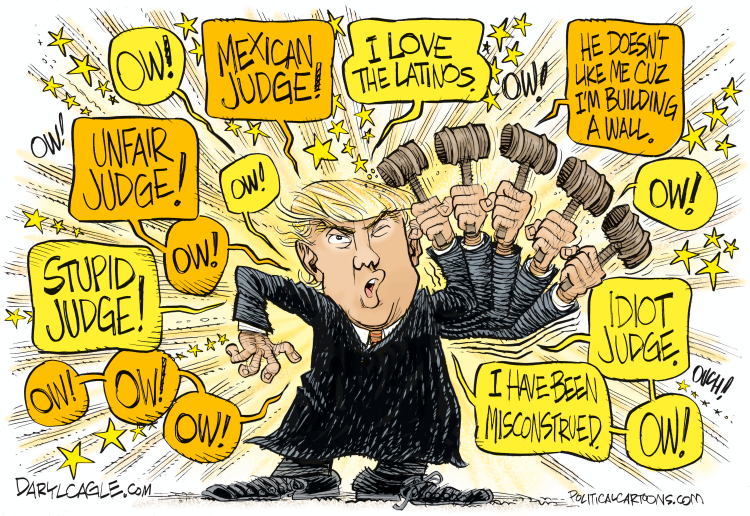 ---